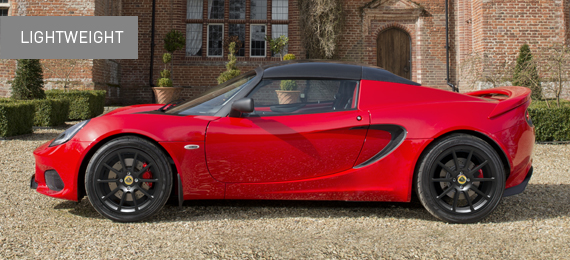 Retaining the elements that have always kept the Elise ahead of rivals, the Elise Sport 220 is built around an extruded and bonded aluminium chassis which is both tremendously strong and torsionally stiff – weighing just 68 kg. The new Elise Sport 220 benefits from a range of improvements, which includes a 10 kg mass reduction thanks to a number of new components. Changes to the body including a redesigned lightweight front clam panel, with wider apertures and mesh pattern grille provide a more aggressive aspect and 8.7 kg less weight. The new design of rear transom panel now has two rear light clusters, rather than four, with reversing and fog lights now mounted inboard so reducing weight by 0.3 kg and visually enhancing the rear design to appear wider. Every single one of the Sprint's lightweight components can be also specified on the standard Elise Sport 220.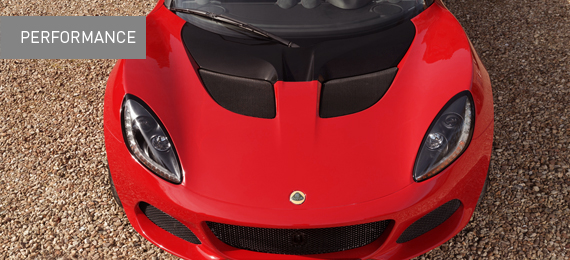 Offering 217 hp / 250 Nm of torque, the 1.8-litre supercharged engine of the Elise Sport 220 has been specifically tuned to deliver a benchmark power-to-weight ratio and class leading efficiency. The car's reduction in weight translates into quicker acceleration with 0-60 mph in 4.2 seconds, harder cornering and a power to weight ratio of up to 257 hp / tonne. Being so lightweight, emissions are extremely low with 173 g CO2 / km. Stopping power is provided by AP Racing twin-piston front calipers and Brembo single-piston rear-calipers – optional lightweight two-piece brake discs are also available. Like all Elise, the Elise Sprint 220 benefits from Lotus' Dynamic Performance Management (Lotus DPM) with user selectable driving modes (Drive / Sport / Off). Last not least, Hethel's acoustic engineers have spent time altering the aural appeal of the Elise Sport 220: providing the perfect soundtrack at any speed, its new exhaust makes the 1.8-litre supercharged Elise Sport 220 the best-sounding 4-cylinder car on the market.
Featuring the Elise's distinctive new styling, the Elise Sport 220 integrates a new front and rear aesthetic. The cabin also receives a wide range of cabin enhancements – including the lightweight open-gate gear select mechanism providing a much more positive and direct operation and giving more precise and quicker shifting. The cabin also benefits from a new centre console and optional carbon sill covers which reduce weight by 0.8 kg and increase the door aperture by up to 10 mm, aiding ingress and egress. The Elise's instrument panel has also received attention, with new graphics making it easier to read and a new in-car entertainment system, including iPod® connectivity and Bluetooth® functionality, can also be selected when ordering. Options for the new car include Alcantara® trimmed steering wheel, vent-surrounds and sills. Further enhancement can be specified, including a new paintwork colour: "Electric Light Blue" joining the Lotus core colour range.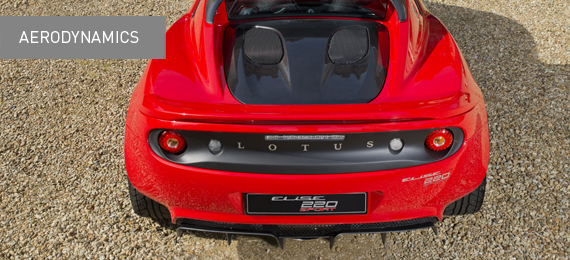 Modifications front and back are more than skin deep and have allowed the careful balancing of aerodynamic downforce across the whole car. Extended rubber elements mounted on the flat underside and ahead of the front wheel, together with an additional diffuser vane at the rear, help modify airflow under the car reducing drag and increasing stability. *Vehicle shown features the following cost options – Interior – Alcantara Trimmed carbon fibre sports seats with red contrast stitching, Alcantara trimmed steering wheel, Alcantara trimmed air vents, carbon fibre sill panels, Sport Red interior colour pack, carpet mats. Exterior – Carbon fibre front access cover, Carbon fibre engine cover, Carbon fibre hard top, Black exterior colour pack, Red blacke calipers, Black 10-spoke ultra lightweight Forged alloy wheels
TOP SPEED
145 MPH
0 – 60 MPH
4.2 SECS
POWER
217 HP
WEIGHT
845 KG
Features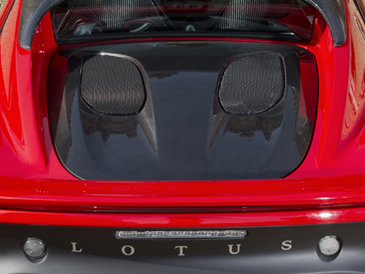 Fuel-injected and supercharged
1.8-litre engine develops 217bhp (220PS)
Delivers 184lbs ft (250Nm) of torque
Mid-engine provides balance
Lotus-developed Electronic Throttle Control
Locking differential
Exhilarating acceleration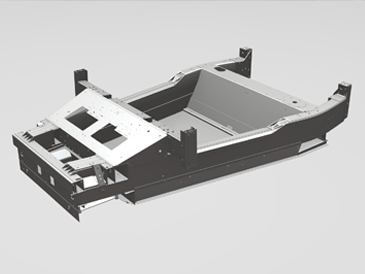 State of the art construction, entirely handmade
Lightweight, extruded aluminium bonded chassis structure
Exceptional torsional rigidity
Provides solid handling base
Fully independent double wishbone suspension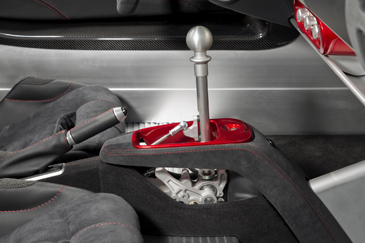 6 speed manual gearbox with sports ratios
Exposed aluminium gearshift mechanism
Close ratios
Precise changes
Balanced clutch weight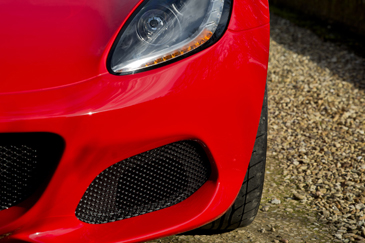 Head-turning presence
New front and rear aesthetic
New exterior and interior carbon fiber options
New exterior and interior Pack options (Alcantara, Leather, Black, Interiour Colour)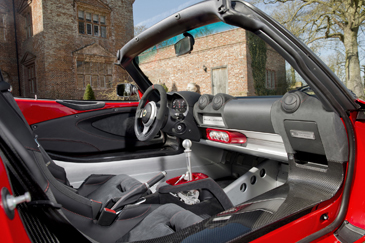 Lightweight open-gate gear select mechanism for a more precise and quicker shifting
Steering wheel trimmed in black leather
Engine start push button
Specification
PERFORMANCE*
Manual
Max power
217 hp at 6800 rpm (220 PS) (162 kW)
Max torque
184 lbft at 4600 rpm (250 Nm)
0-60 mph
4.2 seconds
0-100 km/h
4.6 seconds
Max speed
145 mph (233 km/h)
Power to weight ratio

257 hp/tonne

Lowest possible dry weight
845 kg
Dry weight
877 kg
Kerb weight
904 kg
EMISSION AND FUEL CONSUMPTION (l/100 km)
Urban
27.4 (10.3)
Extra Urban
47.9 (5.9)
Combined
37.7 (7.5)
CO2 emissions, Combined
173 g/km
ENGINE & TRANSMISSION AND CHASSIS
All alloy,1.8 litre DOHC 4 cylinder , dual VVT-i, 16 valve with chargecooler supercharger
Standard
Mid mounted, transverse, rear wheel drive
Standard
Lotus Electronic Throttle Control System
Standard
6 speed manual gearbox with sports ratios
Standard
Exposed aluminium gearshift mechanism
Standard
Electronic Differential Lock (EDL)
Standard
Lightweight, extruded aluminium bonded chassis structure
Standard
Fully independent double wishbone suspension with front anti-roll bar
Standard
Bilstein high performance gas dampers, front and rear
Standard
Eibach springs, front and rear
Standard
Lotus tuned ABS system
Standard
AP Racing twin-piston front calipers
Standard
Brembo single-piston rear calipers
Standard
Red painted brake calipers
Option
Lightweight battery
Standard
Lightweight Lithium-ion battery
Option
Lightweight two-piece high performance brake discs
Option
Tyre Pressure Monitoring System
Standard
EXTERIOR SPECIFICATION
Lightweight silver cast alloy wheels (16" front and 17" rear)
Standard
Lightweight black forged wheels (16" front and 17" rear)
Standard
Front Yokohama Advan Neova AD07 tyres 175/55 ZR16
Standard
Rear Yokohama Advan Neova AD07 tyres 225/45 ZR17
Standard
Servo assisted, cross drilled and ventilated brake discs, 288 mm diameter, front and rear
Standard
Aerodynamically optimized black rear diffuser
Standard
Clear sill stone chip protection film
Standard
Carbon fibre access panel
Option
Carbon fibre engine cover
Option
Carbon fibre roll hoop cover
Option
INTERIOR SPECIFICATION
Electric Windows
Standard
Heater with face level vents
Standard
Black leather steering wheel
Standard
Polished aluminum gear knob and leather handbrake sleeve
Standard
Black Technical fabric and leatherette Sports seats with Silver contrast stitch
Standard
Black Technical fabric and leatherette interior door card trim with Silver contrast stitch
Standard
Black technical fabric and leatherette centre consol with Silver contrast stitching
Standard
Black leatherette trimmed air vents with silver contrast stitch
Standard
Engine start push button
Standard
Driver and passenger airbags
Standard
Tyre puncture repair kit
Standard
Silver interior colour pack -
Electric Window switch bezels, gearchange surround and heater control panel
Standard
OPTIONS: INTERIOR & TRIM
Alcantara® Trim Pack
Option
Alcantara® Trim Pack
Option
Tartan Trim Pack
Option
Alcantara® trimmed steering wheel
Option
Alcantara® trimmed vent surrounds
Option
Alcantara® trimmed sill covers
Option
Full carpet
Option
Interior Colour Pack (Red, Yellow, Silver, Orange or Black)
Option
OPTIONS: EXTERIOR & BODY
Hard-top
Option
Black Pack (Matt black rear transom, roll hoop cover, mirror plinths/pods & front access panel)
Option
Red painted brake calipers
Option
OPTIONS: COMFORT & COMMUNICATION
Air conditioning
Option
Bluetooth enabled stereo plus two front mounted speakers
Option
Sound insulation
Option
Cruise control
Option
OPTIONS: LIGHTWEIGHT & PERFOMANCE
Silver or Black 10-spoke Forged Wheels (16" front & 17" rear)
Option
Lightweight Lithium-ion Battery
Option
Polycarbonate Backlight Glass
Option
Titanium Exhaust
Option
Two piece high performance brake discs
Option
Sport dampers
Option
Carbon fibre hard-top
Option
Carbon fibre front access panel
Option
Carbon fibre tailgate
Option
Carbon fibre roll hoop cover
Option
Carbon fibre sports seats
Option
Carbon fibre sill covers
Option
OPTIONS: PAINT
Signature paint
Option
Metallic paint
Option
OPTIONS: LOTUS EXCLUSIVE
Exclusive Paint: Alternative metallic colours
Option
Exclusive Paint: Alternative pearlescent colours
Option
Exclusive Paint: Custom colour choice
Option
Exclusive Leather: Alternative colour
Option